Guest Post By Lilach Bullock 
As a marketer, one of your main worries is how to prove the effectiveness of your digital marketing activities. To prove it, your boss wants hard numbers – so it's time to calculate your digital marketing ROI.
Let me tell you this though: there's no exact method that will capture your digital marketing ROI perfectly. It's just difficult to quantify some of the activities you engage in.
Having said that, you can still have an approximate value of your digital marketing ROI. This gives you insights into the effectiveness of your marketing efforts.
Apart from providing a figure to your boss, it helps you to adjust your marketing strategy to improve results. But to prove your digital marketing ROI every month, you need tools to help you.
Six tools to help you calculate your digital marketing ROI
In this blog post, I'll show you six tools you can use to help you calculate the return on investment (ROI) of your marketing efforts.
These tools are useful in various aspects of marketing like content marketing, social media marketing, search engine marketing, and email marketing.
Let's begin.
Content marketing ROI
Running your website requires effective content marketing. But how can you have an idea of your results? First of all, your digital marketing ROI for content will depend on your goal.
The basic formula for calculating your digital marketing ROI is:
ROI = (Gains from investment – cost of investment)/(cost of investment) × 100%
1. Google Analytics
If you run a website, Google Analytics is simply a must-have tool. It helps you to track every source of traffic to your website pages. Some important metrics you get from your Google Analytics dashboard are:
Page views
Bounce rates
Visitors location
Source of traffic
Page value
Conversion goals tracking
Assisted conversion value
This tool helps you to check all website traffic to individual pages on your website. For a particular month, you can see this metric. You can even compare with previous months to indicate progress in your content marketing efforts.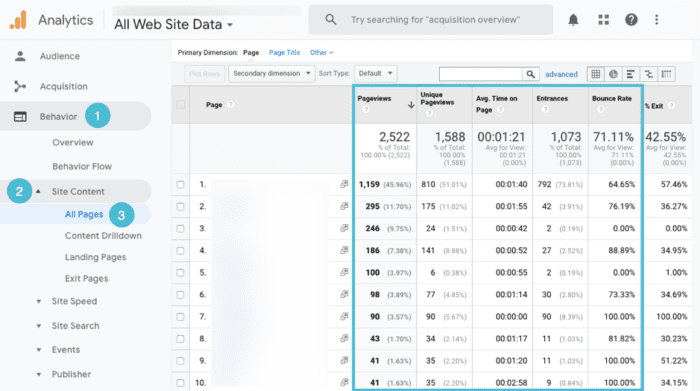 Likewise, if you run other campaigns on social media and other marketing channels to bring traffic to your website, you'll be able to see how much traffic you got from these campaigns. You can also see the behaviour of visitors from these channels.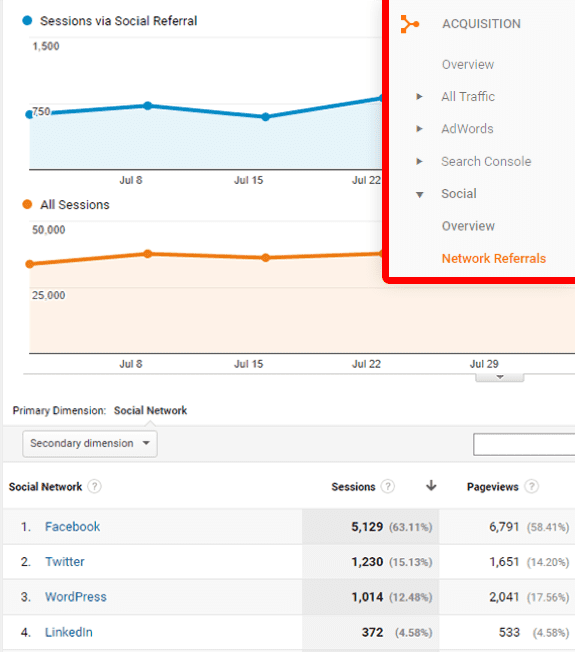 Even if your marketing goal is to capture leads or make sales, Google Analytics can also help you to track these goals. All you have to do is create a conversion goal in your Google Analytics dashboard.
To do this, select your website on the dashboard. After doing that, click on "Admin" and then "Goals."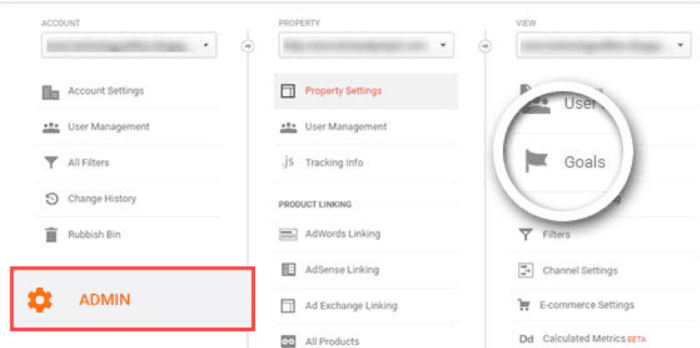 On the next page, click on "+ New Goal" to create a new goal.

To create your goal, you have to select the type. If you're tracking leads or sales, this should be "destination." This could be your 'thank you' page after a new lead releases their information or a purchase is made. Any visit to these pages means the goal has been achieved.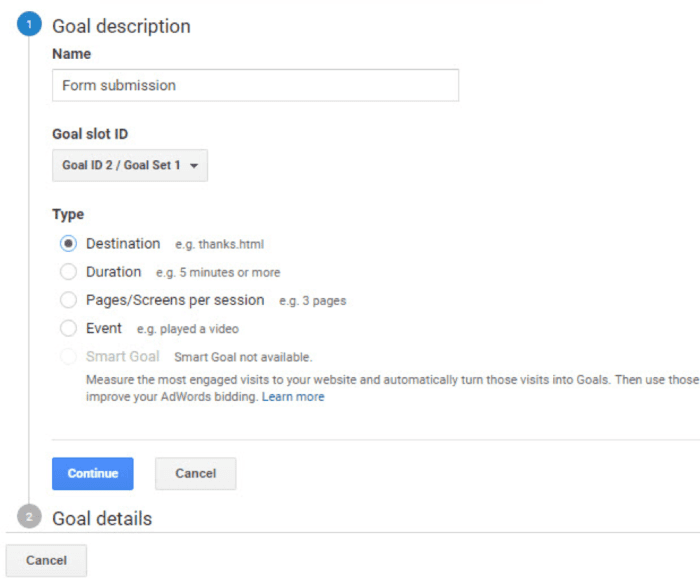 Next, you have to provide details like the URL of the destination and the value of this goal. This is the average value of your lead or purchase.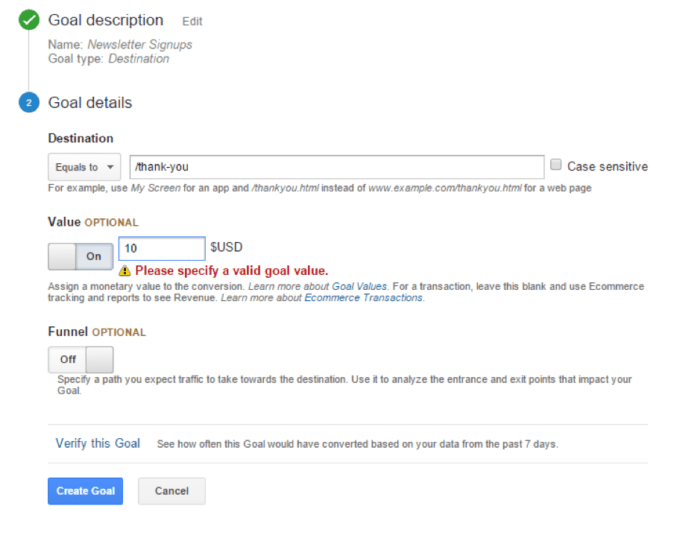 You can then save your goal. Google Analytics helps you track most results on your website if you know where to check.
2. Cyfe
This is another tool that helps you to prove your digital marketing ROI across various marketing channels. Cyfe allows you to add widgets from these channels:
Advertising
Blogging
Email
Sales & Finance
SEO
Social media
Web analytics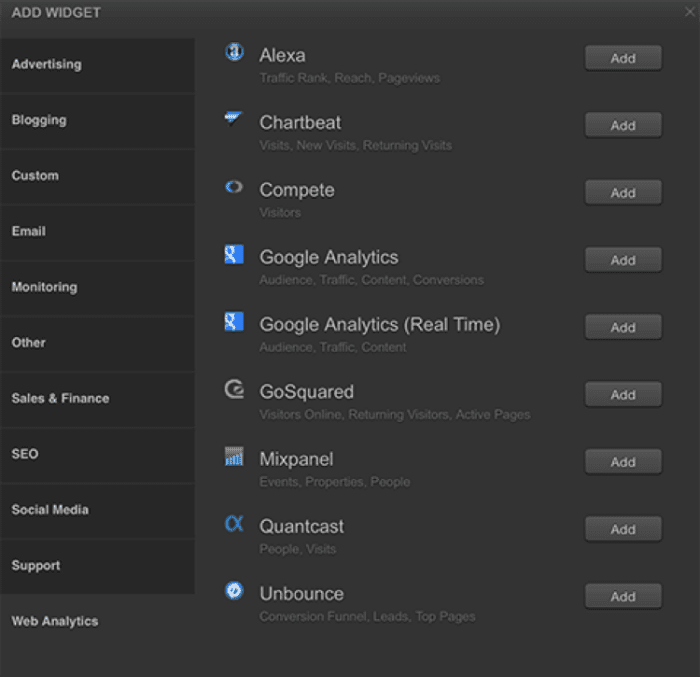 It helps you to track your digital marketing results and ROI across many marketing channels. You can create your dashboards here and manage your data on one platform.
Social media marketing ROI
Most of your ideal customers are on social media. How effective is your digital marketing at reaching and converting them?
3. Hootsuite
In most cases, a business will maintain a presence in many social media platforms. It can be tedious to track your results on these social media channels individually.
With a tool like Hootsuite, you can manage your social media pages on a single platform and also track results from your social media efforts.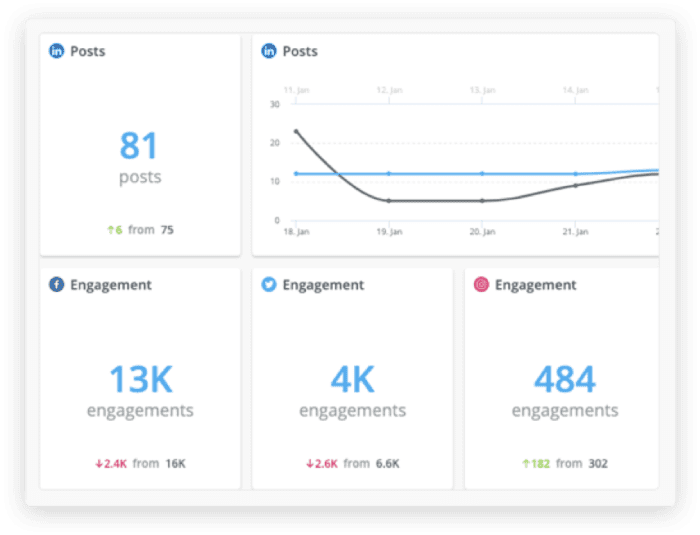 Furthermore, Hootsuite has a social ROI calculator that you can use to calculate your social media marketing ROI. Let's consider this example from a Facebook campaign.
Your costs for a Facebook campaign are $1,000 for the ad spend, $500 for content creation costs, and $200 for labor costs. This will take your investment to $1,700.

If the ad is linked to a landing page on your website, let's assume you got these results: 1,000 visits from the campaign, 10% landing page conversion rates, 50% close rates and your customer lifetime value is $1,500.

From these figures, the social ROI calculator can calculate your ROI which is 4,312%.

If you want to measure your social media ROI across different channels, you can use the Hootsuite Impact. This will create graphs and tables showing how social media has brought in leads and sales.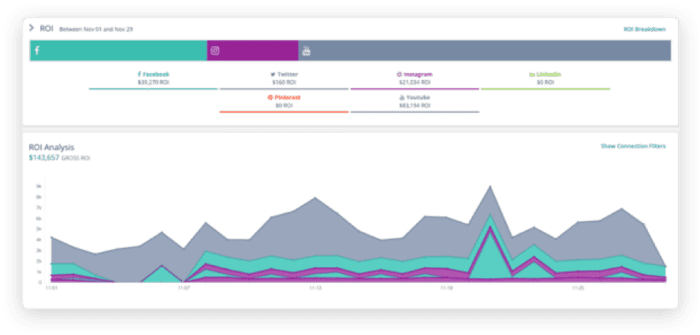 4. Sproutsocial
You can measure your social media metrics on this platform as well. Apart from creating goals on Google Analytics, you need to have the knowledge of your performance.
This would include the types of content with the highest engagement, the low performers, number of impressions, number of clicks to your website, and other important metrics.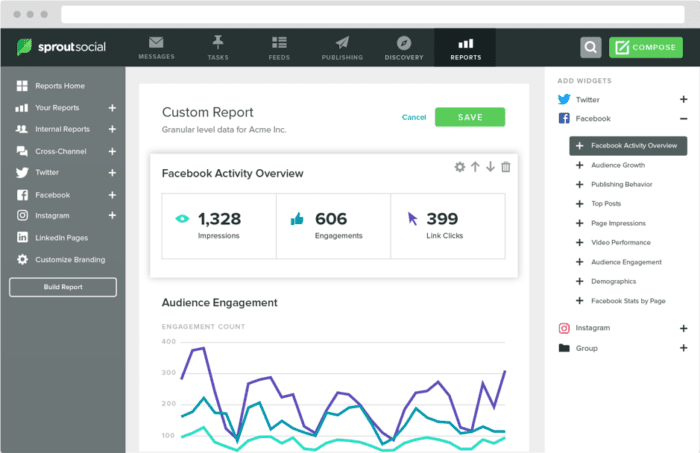 You can also get these metrics for all social media channels in a single place. These pieces of information will help you access the effectiveness of your social media content and the types of content that connect best with your audience.
Search Engine Marketing RPO
Gaining organic traffic from search engines to your website is crucial. Because it's a targeted source of traffic with people searching keywords related to your service, this will certainly boost your digital marketing results.
5. SEMrush
Apart from being one of the most popular keyword research tools today, you can also use SEMrush to get insights from your organic traffic. With its Organic Traffic Insights tool, you can get details about the number of users who visit your website through search engines.
Some of these details are:
Number of users
Number of sessions
Number of pages per session
Bounce rates
Goal completion

Likewise, you can get the details for each landing page a searcher visits from search engines. If you've connected your Google Search Console (GSC) account, you can click on the blue number to get more details about keywords that bring organic traffic to your pages.
6. Sleeknote
When you have the basic numbers about your email performance and your investment value, Sleeknote can help you calculate important email results and your digital marketing ROI. Some details you need to calculate your email ROI on Sleeknote are:
Send volume
Open rates
Click-through rates
Conversion rates
Average value of a conversion
Campaign's cost
You can get most of these values from your email service providers (ESPs). The campaign's cost includes the addition of content cost, cost of ESP, and others.
From these values, you can get results like:
Revenue
Profits
Cost per open email
Cost per conversion
ROI

Through this, you can see the effectiveness of your email campaigns.
Getting the most out of your digital marketing ROI calculations
Choosing the right tools and finding the right numbers will help you reach an accurate return on investment value for your monthly marketing reports. Use these tools to help you find your digital marketing ROI across various marketing channels.
Do you use these tools? What other tools do you use to calculate digital marketing ROI?
Guest Post By Lilach Bullock